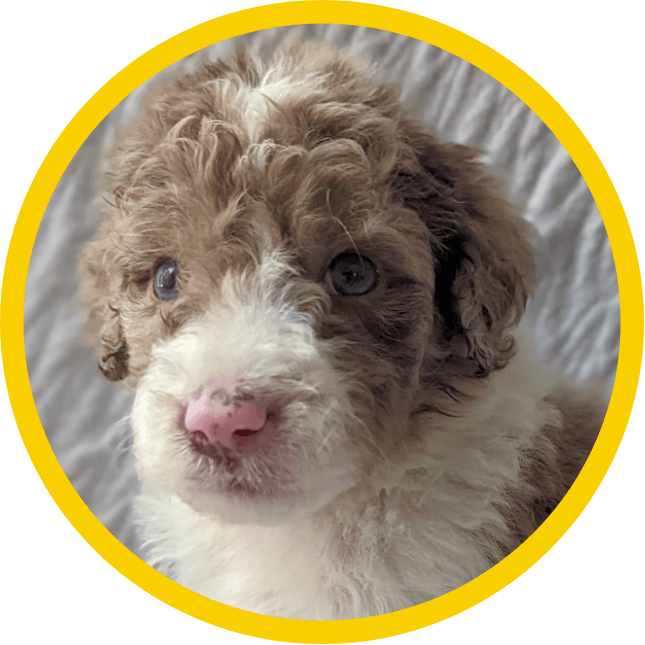 About Us
Home Raised Goldendoodle Pups
We provide, San Diego based, F1B Goldendoodle puppies to loving families who are committed for life! As modest home breeders, we value quality over quantity. Our specialty breeding includes both medium and standard sized hypoallergenic Goldendoodles – which means little to NO SHEDDING! We also hand pick our studs to mate with our in-home family Goldendoodle, Emmy. We only choose boxy faced poodles to achieve that perfect teddy bear face!
Every litter (once a year) we tie color coded ribbons onto each pup as they are born. This is how we identify each pup throughout our weaning and in-home training process before they are sent to their Forever Homes. Avoiding personal names allows us to not become TOO attached to any individual puppies, because that experience is for our adopting families.
The pups are wormed and have their first shots and a check up by a certified veterinarian before they go to their Forever Homes.
IN-HOME
BOXY FACES
CERTIFIED VETERINARIAN
NO SHEDDING
COLOR IDENTITY
PUPS PARENTS
Our parents are all indoor home pets who are loved and cared for just as your little ones will be too!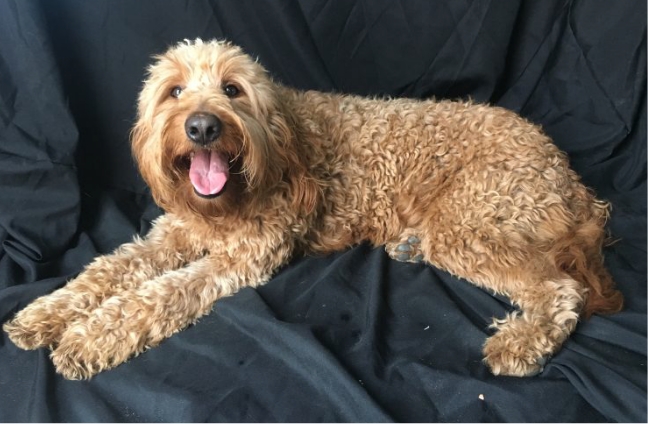 RUBY (RUBY-DOO)
Ruby is our 2 year old Goldendoodle. She has a gorgeous deep apricot/red wavy coat and a perfect boxy face. She is around 45 pounds and is a little bit shorter in stature than Emmy and should have really cute medium sized pups. Ruby is a people dog and loves to stick right by our sides, always eager to please. She is a fetch addict, she could chase a ball all day long!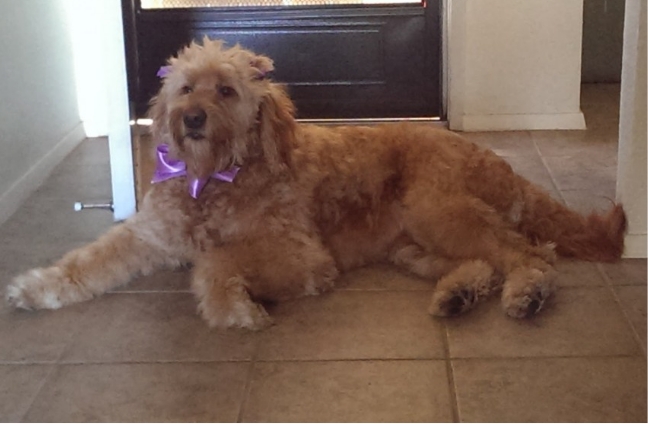 EMMY (EMINEM)
Emmy is currently 6 years old and has an apricot color, wavy coat. She's a standard size F1 Goldendoodle, weighing in at 55lbs. She's our princess and is treated like it! She has the most eager-to-please personalities and can never get enough attention. She's a very good hunter as well – we can hide anything and she will sniff it out in no time! As a sweet, tentative and loyal Goldendoodle, you really can't ask for a better dam to breed. We make sure that she's comfortable, happy and stress free throughout her pregnancies because we strongly believe that it aids in birthing happy and healthy pups.
OUR PUPS
Our pups are specialty bread F1B Goldendoodles. Moms are 1st Gen Goldendoodles back-bread to Full Bread, AKC registered, Male Poodles.
APPLICATION
Our adoption process is pain free. We want to help make it easy for you to find your new family companion to love and to cherish forever! On the other hand, we also want to find the PERFECT families for our pup's to call their "Forever Homes". Just complete the Application below and we'll contact you upon approval to schedule your visit.
OR